The first Raising Cane's Chicken Fingers opened in Baton Rouge, Louisiana in 1996. There are now 385 restaurants including 15 stores Overseas, plus the newest location here in Vista Village. Vista is the first in California with a covered patio outside, and sports one of the largest interiors.
One hundred thirty employees were hired for this location and a team of trainers, consisting of a Captain and six lead workers, plus employees from other surrounding Raising Cane's locations, comprises the training team and stays to train at each location for two weeks.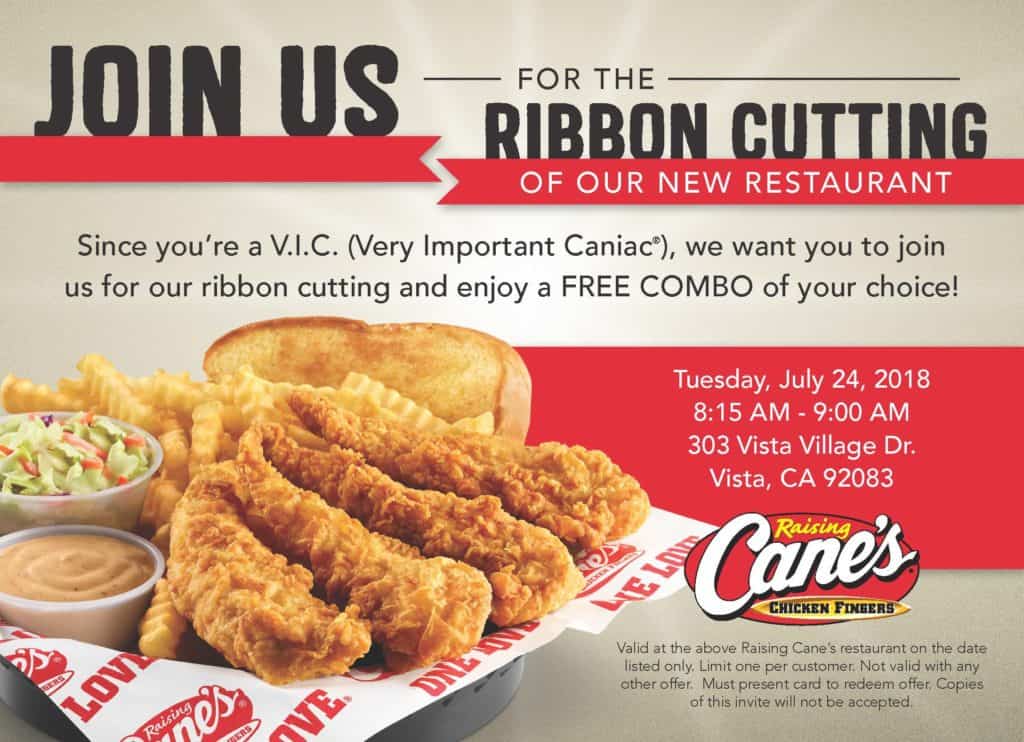 The Founder of Raising Cane's Chicken Fingers, Todd Graves, is most proud of their culture which is to become part of the community where each restaurant is located. Yesterday, Wednesday July 18, 2018, twenty five employees volunteered, before the restaurant even opened, to go to the Vista Boys & Girls Club to do some much needed maintenance. Picnic tables were sanded down and painted, the garden was weeded, the outside lunch area was pressure washed, the girls' bathroom was painted, the teaching kitchen was cleaned along with the carpets in the big meeting area and they deep cleaned the music room. Now that, is giving back!
Raising Cane's Chicken Fingers has a very simple menu, Chicken Fingers, crinkle cut fries, coleslaw, Texas Toast and drinks. Tony Jaremczuk, General Manager, Fry Cook & Cashier, said to come in and say hi and ask for your Caniac Club Card.
Raising Cane's Chicken Fingers Approved by Planning Commission