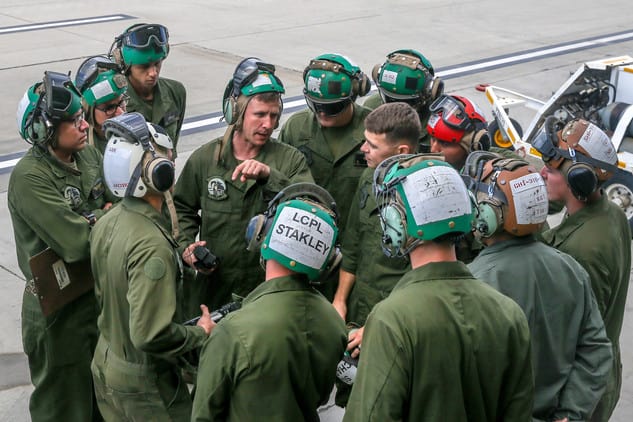 By Cpl. Gabino Perez| Marine Corps Base Camp Pendleton
MARINE CORPS BASE CAMP PENDLETON, Calif. —
Have you ever seen an aircraft land on a stack of mattresses? When most people think of a mattress they imagine a good night's sleep, but for Marines on the emergency reclamation team, they know that when the mattresses rollout, it's time to get to work.
Pilots with Marine Medium Tiltrotor Squadron 164 (VMM-164) hovered over Marine Corps Air Station Camp Pendleton, California, March 12, 2019, in an MV-22 Osprey as they prepared to make a simulated emergency landing…on a stack of mattresses.
Known as a hung landing gear drill, VMM-164 simulated the malfunction to train Marines to understand their role during a real-world situation.
"This drill is important because it is critical that we practice like we play as it pertains to emergency procedures," said Capt. Ayleah Alejandre, aviation safety officer with Marine Aircraft Group 39, 3rd Marine Aircraft Wing. "Three pallets of stacked mattresses are taken out and strapped down on the landing pad – one for the nose gear and two for the main gear," said Alejandre.
Marines also learned the importance of this training from pilots and crew members who have had firsthand experiences of emergency landings. Maj. Thomas J. Dunn, director of safety and standardization with VMM-164, once found himself having to react in a real-life scenario but knew how to respond because of this type of training.
"I was coming into a landing, and the gear did not come down, it is a very uncomfortable situation especially because of fuel requirements, enemy threat and all that," said Dunn. "In 2008, I found myself turning around over Baghdad International [Airport] at 1500 feet, going through the emergency procedures, [but] we did get the landing gear to come down."
With realistic and relevant training, VMM-164's Marines prepare for emergencies that could occur, because that keeps the squadron ready when things don't go as planned.
"Every squadron is required to do a minimum of at least quarterly mishap drills," said Alejandre. "On the surface, the drill doesn't seem terribly difficult, but once you look at all the moving parts, it's something that we need to exercise time and time again to be ready."