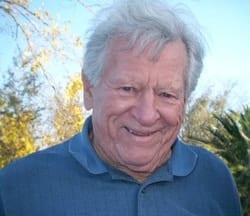 Poway, CA – Rudolph Walter Matz, 98, US Navy (ret. Lt. Commander) World War II fighter pilot, passed away peacefully on Wednesday, January 3, 2018, at his home. Rudolph "Rudy" was born to John and Frances Matz in Utica, Ohio, the second of seven children to be raised on the family farm. Upon graduating from high school, he enlisted in the Navy in 1939. Four of his siblings would also serve in the military at the same time and serve in World War II.
Rudy served in the Navy for 21 years. During World War II at the Battle of Midway, he was a Fire Control man aboard the destroyer USS Hughes. He was then commissioned as a naval aviator completing his flight school in 1943 and would go on to fly 44 combat missions flying the F6F-3 Hellcat and Corsair with the VF-1 "High Hatters" aboard the U.S.S. Yorktown CV-10. Rudy Matz fought in the following WW II battles: Midway, Marshall Islands, Gilbert Islands, First Battle of the Philippine Sea, Great Marianas Turkey Shoot, Coral Sea, Iwo Jima, and Okinawa. He shot down five enemy planes during the war, earning 3 Distinguished Flying Crosses, 8 Air Medals, and 2 Presidential Citations. After the war, Rudy would go on to work for the Navy as an experimental flight test pilot, testing 33 different high altitude planes and earning the rank of Lieutenant Commander. A plaque recognizing his distinguished military career is placed at the Mt. Soledad War Memorial in La Jolla, CA, and in 2014 Rudy was awarded the Midway American Patriot Award.
Rudy married his first wife, Maxine Wilson (deceased 2/9/01) in Newark, Ohio on September 24, 1944. Their 57-year marriage gave them four children (Carolyn, Lindsey, Rudy Jr., and Eric). Rudy graduated from Ohio State University in 1956 and was subsequently stationed in San Diego, living in Imperial Beach. After purchasing land in Poway in 1955, Rudy would go on to open Poway Lumber and Hardware in 1958. Upon retiring from the United States Navy in 1960, he moved the family to Poway. Rudy established two businesses in Poway: the aforementioned Poway Lumber and, in 1974, Poway's Padre Transit Mix. He was an important figure in the Poway community, co-founding the local Lions Club and Poway Rodeo, which allowed him to serve and give back to the community he loved. Rudy was also a member of the San Diego Al Bahr Shriners service organization. For his community service, commitment, and accomplishments to the Poway community for over 50 years, Rudy was awarded the Poway Mayor's Award in 2014.
On March 21st, 2015 Rudy would marry again, to his long-term companion of 13 years, Tess Hernandez-Matz, and gain two step son's Jason and Brandon Hernandez. In his free time Rudy enjoyed spending time in his orchard, fishing, traveling, coin collecting, and most importantly, spending time with his family and loved ones. During his time in the Navy and in retirement, Rudy traveled the world and enjoyed every opportunity he had to spend time on vacation with his family. He is remembered by family and friends as a kind, humble, dignified, honorable and loving man whose service to our country and community demonstrated his incredibly selfless nature. In death, he is remembered for the life he lived, the country he served, and the community he cared for.
Rudy is preceded in death by his father and mother John and Frances Matz, first wife Maxine Matz, sisters Virginia Appel and Frieda Valenti, and brothers Otto and Robert Matz.
Rudy is survived by his second wife Tess; his sister Betty Logan (Frank), his four children, Carolyn (Tom), Lindsey, Rudy Jr. (Lora), and Eric (Lisa); and stepsons Jason (Cherry) and Brandon (Ribi). He is also survived by his nine grandchildren, Eve, Chris, Brian, Adam, Brittney, Ashley, Kaeley, Carley, and Gage; and four great-grandchildren, Chance, Maddison, Zoey, and Brixton.
If you would like to make a donation in honor of Rudy Matz, please send checks to the USS Midway Scholarship Fund care of: USS Midway Educational Programs, 910 North Harbor Dr. San Diego, 92101.