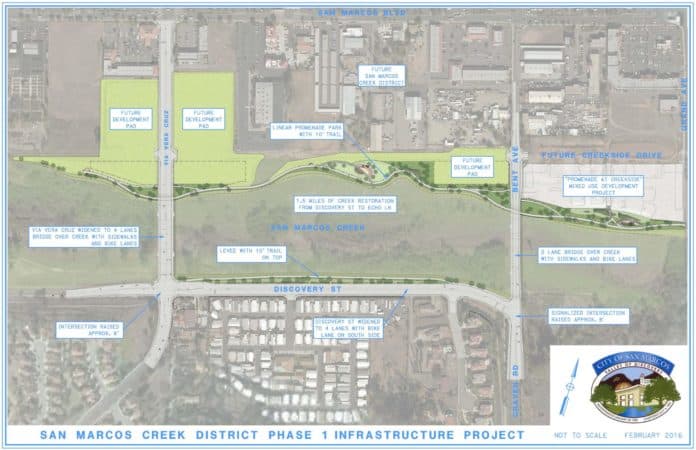 Pre-construction work begins on highly anticipated San Marcos Creek bridge projectCrews have started work to relocate utilities along Discovery Street, Via Vera Cruz, and Bent Avenue to make room for significant infrastructure enhancements in the San Marcos Creek area.
Future enhancements will include the widening of Discovery Street to four-lanes between Bent Avenue and Via Vera Cruz, a new four-lane bridge spanning the creek on Via Vera Cruz, and a two-lane bridge on Bent Avenue.
The project will also create a promenade park and resolve the area's long-standing flooding issues.
During the utility relocation work, westbound and eastbound lane closures along Discovery Street and side streets from Via Vera Cruz to Craven Road will be in place through summer 2018. Work will take place Monday through Friday between 9 am and 2 pm. Delays in work schedules may occur due to inclement weather.
Although two-way traffic will be maintained along Discovery Street, traffic delays are anticipated and motorists are encouraged to use alternate routes during the work period. Standard traffic control measures with advanced warning signs and pedestrian detours will be in place.
Street and bridge construction is expected to begin in early 2019 through late 2020.This project is a significant component of the city's future. In addition to relieving flooding issues, improving traffic flow and supporting habitat conservation efforts, the project provides the backbone infrastructure needed for future growth in the San Marcos Creek District.
The San Marcos Creek District specific plan is a vision to revitalize and conserve 214 acres along the San Marcos Creek by creating a vibrant, mixed-use community that integrates innovative urban development with restored open space and creek-oriented amenities.
For more traffic information related to the scheduled utility work, contact the San Marcos Public Works Inspection Division at (760) 744-1050.
To learn more about the San Marcos Creek District and development vision for the area, visit www.san-marcos.net/creekdistrict, email SMCreek@san-marcos.net or call (760) 744-1050, ext. 4516.