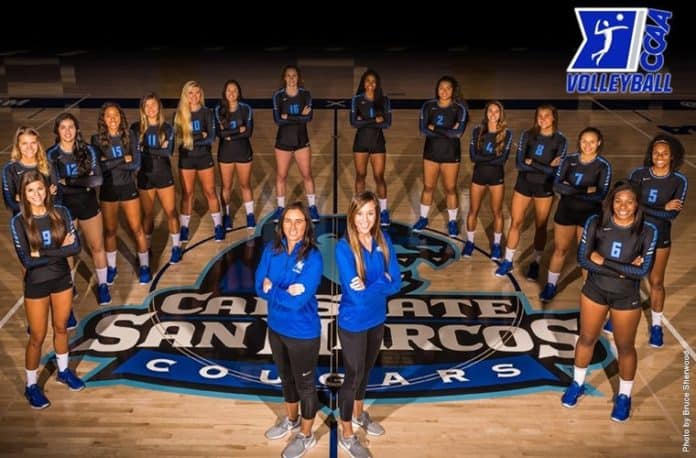 SAN MARCOS, Calif. – The Cal State San Marcos volleyball team has accomplished a lot in 2017, but the Cougars are hoping a third-place overall finish in the California Collegiate Athletic Association (CCAA) standings and victories over the two No. 1 seeds in the conference are just the first in a long series of successes.
The Cougars begin post season play this Thursday afternoon, taking on Chico State in the first round of the CCAA Championship Tournament. First serve is slated for noon at The Swamp on the campus of San Francisco State.
Fans can follow the action with live stats and live streaming video.
CSUSM concluded its conference schedule with an 11-6 record to the CCAA Championship and is the South Division's No. 2 seed, finishing three-games behind Cal State San Bernardino.
Chico State finished 9-9 CCAA record, earning the North Division's No. 3 tournament seed.
The two teams last met on Sept. 22 in CSUSM's conference home opener. The Cougars came out victorious with a four-set win (25-21, 20-25, 25-22, 25-21).
The Cougars wrapped up their regular season winning four of its last six games, including a sweep over crosstown rival UC San Diego on Nov. 4.
If CSUSM wins the CCAA Championship Tournament, the Cougars will earn the conference's automatic qualifying bid to the NCAA Division II Championship Tournament.
The all-time series between CSUSM and Chico State is even at 2-2.
This is CSUSM's first season of being postseason eligible after being accepted into the NCAA Division II this past summer.
2017 CCAA VOLLEYBALL CHAMPIONSHIP
Thursday – Saturday, November 16 – 18
The Swamp, San Francisco
Thursday, November 16 Quarterfinals
12 p.m. No. 3 (N) seed Chico State (15-13, 9-9 CCAA)
vs. No. 2 (S) seed Cal State San Marcos (14-11, 11-6 CCAA)
2:30 p.m. No. 4 (S) seed Cal State L.A. (14-11, 10-7 CCAA)
vs. No. 1 (N) seed Sonoma State (20-7, 14-4 CCAA)
5 p.m. No. 3 (S) seed UC San Diego (16-9, 10-7 CCAA)
vs. No. 2 (N) seed Cal State East Bay (17-10, 10-8 CCAA)
7:30 p.m. No. 4 (N) seed Cal State Monterey Bay (14-12, 8-10 CCAA)
vs. No. 1 (S) seed Cal State San Bernardino (18-7, 10-7 CCAA)
Friday, November 17 Semifinals
5 p.m. Winner of Quarterfinal 1 vs. Winner of Quarterfinal 2
7:30 p.m. Winner of Quarterfinal 3 vs. Winner of Quarterfinal 4
Saturday, November 18 Championship
7 p.m. Winner of Semifinal 1 vs. Winner of Semifinal 2