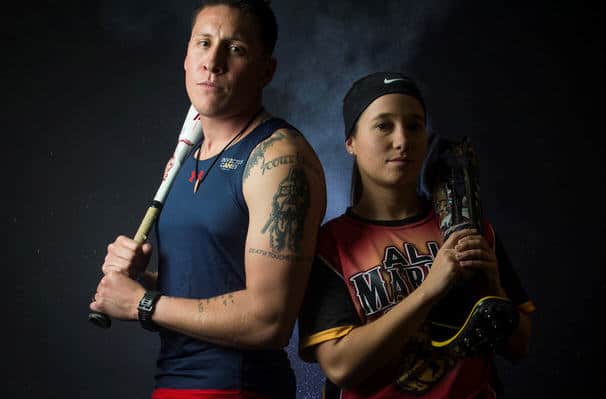 To compete and win: Camp Pendleton Marines recognized as Athletes of the Year
By Cpl. Emmanuel Necoechea | Marine Corps Base Camp Pendleton | December 12, 2018
MARINE CORPS BASE CAMP PENDLETON, Calif. —
"You aren't just playing these sports… there is an outcome to it," said Staff Sgt. Destini Brown, transmissions chief, Combat Logistics Regiment 1, 1st Marine Logistics Group. "The high level competition. Getting to play oversees. The team building skills."
"My mind set is to compete at the best possible level I can, but also to have fun," said Staff Sgt. Jason T. Pacheco, infantry platoon sergeant, Wounded Warrior Battalion – West. "Winning is just the icing on the cake."
The 2018 Camp Pendleton Male and Female Athlete of the Year is awarded annually to Marines that demonstrate excellence and dedication in All-Marine, national and/or international sports competitions. This year, Marines like Pacheco who competed in four sports and participated in 10 events at the Invictus Games in Sydney, Australia, or Brown, who in her time with the All-Marine Softball Team, was selected to play with the All-Armed Forces Women's Team have been selected as the winners for 2018.
Sports to each of these Marines is about the culmination of all the rigorous training to hone their bodies and movements to compete against others that have trained just as hard or even harder. To these two individuals, it is about the competition and displaying their capabilities under the banner of the Marine Corps.
"I found that competitive sports is something that made me adapt to a new situation with my specific injury," said Pacheco. "I was able to keep staying active and do the things I love to do with like-minded people and people with similar injuries. Along the way, I even noticed that I wasn't just helping myself to get better both physically and mentally, but I was also helping out the Marine to the left and to the right… which was pretty awesome."
The Camp Pendleton Male and Female Athlete of the Year award was presented to Pacheco and Brown by U.S. Marine Brig. Gen. Kevin Killea, commanding general, Marine Corps Installations – West, Marine Corps Base Camp Pendleton, Dec. 11, 2018.
"If I had one solid reason as to why I won the 2018 Female Marine Corps Athlete of the Year Award, it would have to be because everyone can just see how much love and passion I put into the game when I play," said Brown. "It's still a little shocking to me though that I'm looked at as a high caliber player, but I try to keep myself extremely humble. To me, it is the best approach to take. If you are too cocky, or over confident, sometimes your abilities don't shine through, but I'm definitely extremely honored to be recognized and awarded for my work."
Both athletes' applications were also sent to Headquarters Marine Corps (HQMC) for competition for the Marine Corps Male and Female Athletes of the Year, and Pacheco was selected as the Marine Corps Male Athlete of the Year. He will be traveling to HQMC later this year to accept his award.
"I didn't really expect to receive 2018 Male Marine Corps Athlete of the Year," said Pacheco. "I was just trying to do the best I possibly could for myself and to show my kids that no matter how hard or how bad of a situation life might throw at you, as long as you are mentally strong and you can achieve it."