Vice Mayor Jones and City Council Candidate Sannella Announce Plan to Reduce Traffic
SMARTS plan will return school buses to alleviate congestion
(San Marcos, Calif.) – Vice Mayor Rebecca Jones and City Council candidate Mike Sannella have announced a plan to help get cars off San Marcos roads, reducing traffic congestion and carbon emissions.
The San Marcos Area Residents Transportation Solution (SMARTS) will bring back school buses to service San Marcos Unified School District, reducing the flow of traffic in the city by thousands of cars each day. It is estimated that as many as 36 cars are required to transport the number of children on one school bus and students on school buses are 70 times more likely to get to and from school safely. San Marcos Unified has nearly 21,000 students in K-12.
"
Expansion of the 78 and other solutions are critical to reducing traffic in the region," said Jones, "But our residents need relief now. As Mayor, this will be a top priority and I look forward to working with my colleagues, the school district, and stakeholders to develop the specifics so that we can implement an effective plan."
"SMARTS makes sense for our roads, the environment, our students, and our families," said Sannella. "It's a concept that's been talked about for years but we are ready to take action and make it happen."
The key to implementing the program is funding, some of which will come from existing congestion management fees. Jones and Sannella want to explore other funding mechanisms, including but not limited to grants, user fees, and public-private partnerships.
"We need solutions to fix the traffic problem and I'm ready to lead," continued Jones.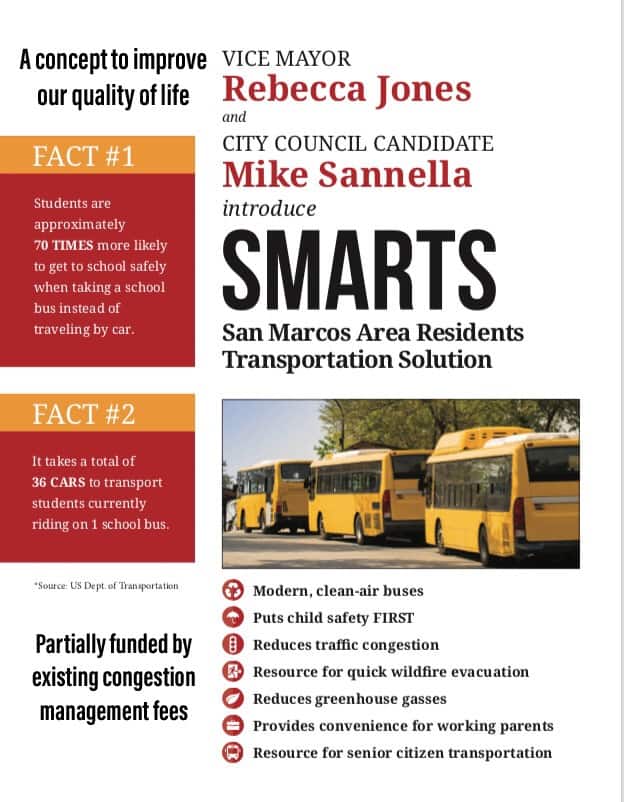 San Marcos City Council District 1 Candidates VIDEO Interviews