Last Thursday at the Shadowridge Country Club, Mayor Judy Ritter hosted a Meet & Greet for Amanda Rigby who is running for State Assembly District 76. Councilmember Rigby spoke to her supporters that evening about her first experience when she was eleven years old, with then Mayor Pete Wilson of San Diego. From her story, she has been preparing herself for this run of State Assembly since that experience. She also stated that the position of State Assembly is not an entry level position.
A native of San Diego County, Amanda grew up in Imperial Beach but slowly migrated north, landing in Mira Mesa where she lived for over a decade and where she thought she would stay. However, while working for the San Diego Volunteer Lawyer Program )SDVLP) at the Vista Courthouse, Amanda fell in love with Vista and in 1993 her husband, D'Arcy, agreed to relocate to Vista; Their boy/girl twins were born a year later. Both of Amanda's children were active in the community, including serving on the City's Youth Commission, each serving that body as Chair. Her daughter was also Miss Vista.
First elected to the Vista City Council in 2012 and having proved herself to be a true visionary and trusted leader, Amanda was re-elected in 2016.
Known as one of the hardest working council Members in Vista, Amanda represents the City on SANDAG's Public Safety Committee and the Regional Energy Working Group, and also as an alternate to the Board of Directors. In addition, Amanda represents the City of Vista and Buena Sanitation District on the Encina Wastewater Authority Board of Directors and the Policy & Finance Committee, of which she is the former Chairwoman.
Amanda also represents the City of Vista at the League of California Cities, currently serving as the President of the San Diego County Division, the state Vice President of the Mayors & Council Members Department, and sits on the Revenue & Taxation Policy Committee. Through her work with the League, Amanda routinely goes to Sacramento to attend meetings, meet with our state leaders, and comments before legislative committees.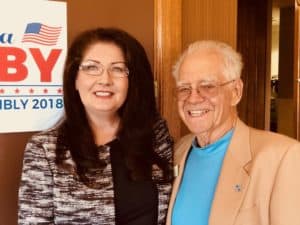 Amanda has always been an active volunteer in her community, serving in many capacities including on school board sub-committees, coaching Vista Pop Warner Cheer, providing pro bono lees to the indigent, working with the Marines at Camp Pendleton, the Daughters of the American Revolution, the US Olympic Committee, or as a Girl Scout and Boy Scout leader. Amanda is proud to be celebrating her 20th year as an active BSA Adult Scout, having served 10 of those years as a Cub Scout Summer Camp Director.
In addition, Amanda used her legal training at the Domestic Violence Restraining Order Clinic (DVTROC) as volunteer but was later hired as the senior staff paralegal, where she continued to assist victims of abuse and also trained volunteer attorneys and paralegals, as well as local law enforcement on the process and ever evolving DV laws. Amanda also volunteered many hours to providing pro bono legal services to the indigent community, through the San Diego Police Department (SDPD) and the North county courthouse. For this service to the community, Amanda was honored to receive the Wiley W. Manuel Award three (3) times from the California State Bar.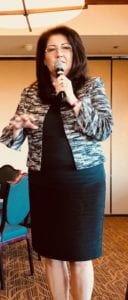 A consummate professional and tireless advocate for her community, Amanda is honored to have been recognized on the lists of Who's Who of American Women, Who's Who in American Law, and as one of the 100 Strong, Smart, Bold Women in San Diego County.
amanda@amandarigby.com
AmandaRigby.com