August 6, 1989 was the 1st Annual Vista Rod Run. This Sunday, was the 28th year and it was yet again a Hot Rod success. The streets of Historic Downtown Vista were lined with classic Pre-74 vehicles, cruisers, trucks and all things Rod Run. The sun was a mild 78 degrees with a steady breeze and people strolled from car to car admiring the beautiful paint jobs, engines and interiors. You could hear conversations like, "Remember When", "I Had one like that", and "My Dad had one like that when we were little". The grand kids were seeing hundreds of cars that are not made like that anymore.
The DJ, High Quality Entertainment, located his sound systems on each corner block to announce what was happening while he played wonderful songs of years gone by for the visitors to enjoy. Also, returning to Vista were the "Millionaire Beach Bums". They are four San Diego kids, ages 13-16, that started playing gigs together in 2013 when they discovered they all shared a love of surf music. Today they rocked the gazebo on the corner of Main and Indiana.

This year there were over 300 entries and 30 winners of various categories. The Overall Best Of Show and Best Chrome was the father of Ryan Bikakis with his 1956 Ford F-100. He has registered his vehicle in his sons name every year since his son passed.
An added feature to this years Rod Run was TJ Crossman from TJ Crossman's Auto Repair, gave away a car to 18 year old Juan Soberanes. Read all about it this week in the North County Daily Star.

The North County Daily Star sponsored the Corvette category, and the winner was Alex Matkovich, age 77, and his wife Barbara, who entered a Blue 1961 Chevrolet Corvette. There were only 419 of this color made. Alex bought the car 54 years ago and he just recently finished refurbishing the car. This was his first competition.

Thanks to the Sponsors, North County Ford, PDT Inc and Vista Village Business Association. Debbie Medrano, with Five Star Premier Events coordinated the event. Large crowds enjoyed the day and they came from cities all over North County and beyond. They enjoyed all that Historic Vista has to offer with the hustle and bustle of the many tasting rooms, restaurants and shops.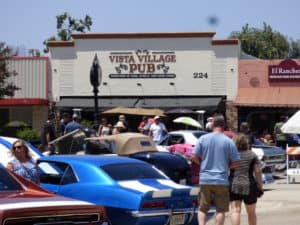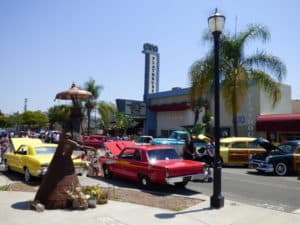 We are now anticipating the 29th Annual Rod Run which will be August 5th, the first Sunday in August 2018. See you all then.