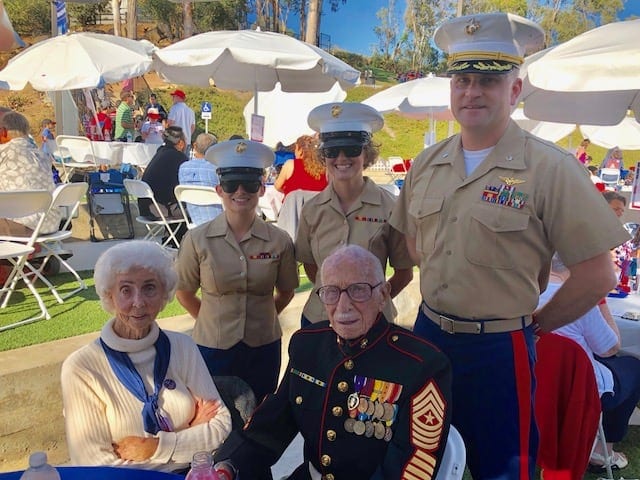 The City of Vista pulled out all the stops to delight everyone that attended the 2018 4th of July Independence Celebration at the Moonlight Amphitheatre in Brengle Terrace Park. 'Light Up the Night' did just that at the end of a fantastic evening of great food prepared by 'When Pigs Fly', honoring some very special Military Heroes, musical performances from 'The Mar Dels', and exploding the sky with beautiful and colorful fireworks set to music.
The dinner began at 6:30 pm, which was absolutely delicious. The food was prepared by 'When Pigs Fly', Owners Dale and Tammy and their family, which included beef brisket, pulled pork and chicken, bbq beans, macaroni salad, fresh greens salad, dinner rolls and their award winning Famous Smoked Peach Cobbler.
After everyone visited, dined on their food and enjoyed the late afternoon sunshine, the Ceremonial Program: Military Heroes Salute & Sponsor Appreciation, was held on stage for all to see and enjoy. The Military Honorees were Major General Thomas G. Lightner, United States Army, Retired, and Sergeant Major Joseph "Jay" Parker (who is 100 years old), United States Marine Corps, Retired. Their backgrounds and careers are quite impressive and expand over 33 years for Major General Thomas G. Lightner and 36 years for Sergeant Major "Jay" Parker.
Lance Corporal Ashtyn M. Hammer and Sergeant Ashley V. Lazareno are just getting started in their careers and are both assigned to Marine Light Attack Helicopter Squadron 369, MCAS Camp Pendleton, CA. Sergeant Lazareno has recently been selected for follow-on assignment to the 2nd Marine Aircraft Wing in Cherry Point, North Carolina. Good luck to both of you and thank you all for your service to our country.
CLICK ON ANY PHOTO TO OPEN GALLERY


The Mar Dels performed all the classic music numbers on the Moonlight Stage. Then the loud boom at 9:00 pm when Vistas' 'Light up the Night' exploded into the sky . Patriotic Music played and car alarms went off from the loud booms of the fireworks which lit up the entire sky above Brengle Terrace Park, till the phenomenal grand conclusion. The Mar Dels returned to play some more patriotic tunes while the people danced and gathered their things and headed home.
Thank you to all of the generous Sponsors: Datron World Communications, Inc., Dick Miller, Inc. (DMI), Dr. Bronner's, Watkins Wellness, Aldrich Atomic Investments, Inc., EDCO Waste and Recycling, Fresh Creative Food, Moonlight Stage Productions, Pacific Marine Credit Union, Tri-City Medical Center, Wave Waterpark, Aztec Landscaping, Catspaw Construction, DDH Group, Dudek, Hunsaker & Associates San Diego, Inc., Indian Joe Brewing, Javo Beverage Company, Inc., TFW Construction, Tideline Partners, Community Housing Works, Hanna Plumbing and Supply, Inc., HMS Construction, Inc., J Leon Construction, STC Traffic, Inc., Stericycle, and West Coast Arborists, Inc. (WCA).