By April Brooks-Dresman
Rancho Buena Vista High School students' photography honoring the Vista Fire Department was front and center last night at the Civic Gallery closing art reception at the Vista Civic Center. The exhibition remains on display until June 26th. 100% of the proceeds from the students work will be donated to the Vista Fire Department. Also on display is the Vista Fire Department's gallery of photos from Station 1, which documents the history of the department as well as the department's Vintage Fire Truck, normally housed at Station 5. Perusing this artistic and historical display, entitled 'Steeped in History: A Vista Fire Service Exhibition', I viewed not only examples of a rich history of bravery, saving lives and structures and captured moments in time, but also of passion for the work and a deep sense of pride.
The display took you on a photo journey through time– from the department's beginning in 1928 as a volunteer fire department, its first fire station on Indiana Ave in 1929, images of notable fires fought, moments in the day of a firefighter, to the images students captured at Station 5 recently. In attendance and representing the Fire Department were Fire Chief, Jeff Hahn; Deputy Chief, Operations, Michael Easterling; and Deputy Chief, Administration and Fire Marshal, Ned Van Der Pol (also an organizer of the event), several fire fighters and Clifford, the firehouse mascot. Also attending were organizers: Ashley Adair, Management Analyst Recreation & Community Services and Kelly Moncure, RBV Teacher and Vista Public Art Commission Chair, as well as several City Staff Members and the visiting public.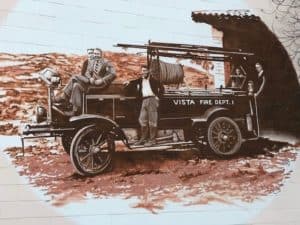 One of the highlights of the evening included meeting Clifford the dog and watching the fun the fire department team has with him as well as with each other. Clifford is young and well behaved but still learning. During the event, Clifford was particularly focused on Mike Easterling whenever he was near or just within sight. It was a great source of amusement. Ned Van Der Pol shared, that shortly after Clifford's welcome and training, the team quickly noticed this same behavior. Clifford always focused on Mike and followed him intently, despite others training him. Later it was discovered, as it was at this event, that Mike was hiding treats in his pockets and rewarding Clifford when no one was looking!
Another highlight was observing people recognizing some photos with nostalgia or awe. I enjoyed watching the reaction of a group of younger firefighters as they viewed the photo timeline with the same enthusiasm as the public who had never seen them might, particularly the vintage photos, you could sense their awe and that deep pride showing through. I also repeatedly noticed a real excitement in the reaction by all firefighters when viewing the 2 student photos of a new Pierce fire truck. When I inquired about the reaction to these photos, I found that three of these Pierce rigs were purchased this year for Stations 4, 3, and 2 for $627,000 each. The firefighters enthusiastically described the truck as a custom built, giant toolbox with all the latest bells and whistles needed in today's scenarios. It is a well deserved upgrade for our hard working department who recently was awarded the American Heart Association's Mission: Lifeline EMS Silver Plus award, serves and protects 36.5 sq miles of City and District land as well as a population of 123,797 and provides the public with fire prevention services and disaster preparedness training. Lastly folks, if I may add, the Vista Fire Department very likely is the best looking Fire Department around. There I said it; sorry hubby.
There are plenty of ways you can help this great team and our community– becoming educated, using prevention practices and/or becoming a volunteer. Residents and locals interested in more information on fire prevention or disaster preparedness can find information at https://www.cityofvista.com/services/city-departments/fire-department/fire-prevention or you can become a Community Emergency Response Team (CERT) Volunteer by signing up to participate in the upcoming CERT Disaster Preparation Training coming up this August. The course takes place over eight Wednesday evenings and one Saturday.
Find more information here:
https://www.cityofvista.com/services/city-departments/fire-department/fire-stations/fire-cert-programs