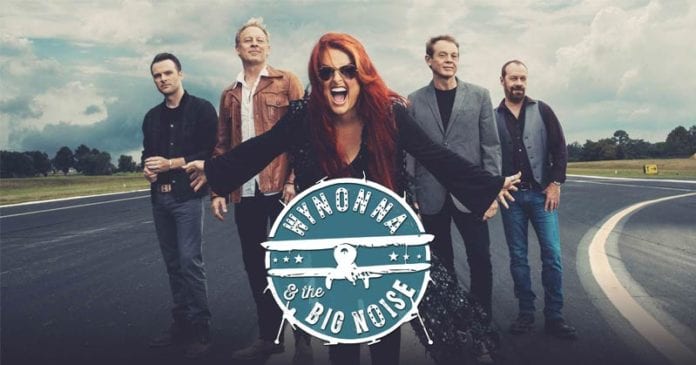 Escondido, Ca. – January 2, 2018 — Country music icon and Grammy winning artist, Wynonna Judd, takes over the California Center for the Arts, Escondido's Concert Hall on Jan. 14th at 7:30pm!
If you're a fan of country music, or if you've heard of country music, chances are you've heard of Wynonna Judd. She began her illustrious and legendary career alongside her mother in the 1980's as one half of The Judds. The duo released 23 hit singles in less than a decade, and sold millions of records before disbanding in 1991, due to her mother's health.
Wynonna didn't slow down a tick moving into a solo career that garnered five number one hits, over five millions records sold, and dozens of awards and nominations including being named the Top Female Artist by the Academy of Country Music in 1994.
Now on the road in support of her first full album of original material in fourteen years, Wynonna is taking it to the next level. Wynonna and the Big Noise is just that, a loud, raucous, boot-stomping good time. Featuring collaborations with Susan Tedeschi, Jason Isbell, and Raphael Saadiq, the album is filled with fresh hooks and genre defining hits all led by the powerhouse herself – Wynonna.
"The big voice is still there – deep, pure and throaty enough to growl at the drop of a hat – and she wraps it around whatever style she's feeling." – Newsday
"A certain musical and spiritual condition defines Wynonna's first album with her band The Big Noise – that quality is joy." – NPR
Don't miss your chance to see a legend step foot in Escondido – Wynonna: There's Only One.
About California Center for the Arts, Escondido
With a mission of bringing people together to discover, create and celebrate both the visual and performing arts, California Center for the Arts, Escondido is the cultural center of North San Diego County.
The Center's unique campus includes a 1,523-seat concert hall, a 404-seat theater, a contemporary art museum, art and dance studios, and a full-service conference center with meeting and banquet facilities. The Center also runs an extensive education program and produces free community events. San Diego Magazine named the Center the "Best Limited Engagement" in North County. The Center was named in the Top Five for U-T San Diego's Readers Poll for "Best Live Music Venue" and the Top Five for "Best Place to Get Married." In 2016, the Center was named "Organization of the Year" by the Escondido Chamber of Commerce.
The Center is located at 340 N. Escondido Blvd. in Escondido. The Ticket Office can be reached at (800) 988-4253. Tickets can also be purchased online. To learn more, including performance dates, times and ticket information, visit artcenter.org.